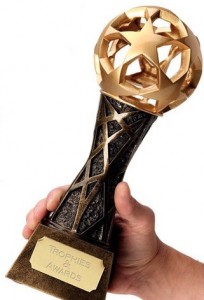 'WE GET IT RIGHT AND ON TIME'
 Offer discounts which vary on the size of the order, but we will match any 'internet offer' wherever possible.
Standard text engraving is free on all purchased items so you don't have to worry about paying 'per letter'.
If you have an existing Club centre, we offer a free die conversion service so you will not have to pay another set-up fee.
We can engrave your Club logo on your trophies and plaques as we use the latest computerised engraving machines. This makes 'Special Contribution' plaques look superb.
We aim to have your order complete and ready for collection a week before it is needed or alternatively we will deliver it direct to your presentation evening venue if it is a large order.
We are open 7 days a week, but please ring to make an appointment
We offer a trophy selection service, let us know your budget and trophy categories required and we can select the best trophies available, taking all of the hassle away from you!
Our Customer Service is second to none!
Medals, Trophies and Awards Engraving Trophies Gloucester